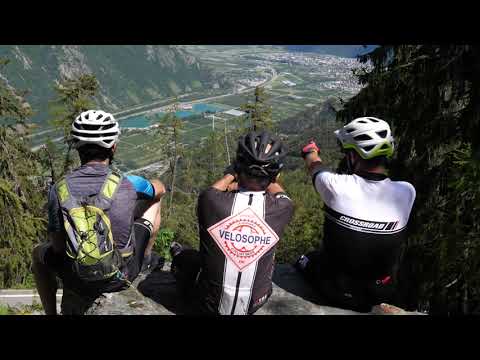 Randonnée VTT
Tour of the Trient Valley (mountain bike)
Vallée du Trient
Starting from Vernayaz, the Trient Valley Cycle Tour is a circular route that takes you through carefully-preserved little villages set in wild, unspoiled landscapes.
From Vernayaz (453m), take the Route des Diligences. This old coach road, built in the mid-19th century, was the first road between Martigny and Chamonix.
Go through the villages of Salvan (934m) - Les Marécottes (1030m) - La Médettaz (1068m) - Le Trétien (1021m) - Finhaut(1224m) - Giétroz (1360m) - Châtelard-Village (1123m) - Châtelard-Frontière (1116m) and Vallorcine (1260m).
You then leave the Route des Diligences and head up towards Les Esserts (1549m), Tête Noire (1199m), Trient (1231m) and the Col de la Forclaz (1528m). The col offers a superb view over Martigny and the Rhône valley.
The descent takes you through the little villages of La Fontaine (846m) and Plan Cerisier (600m).
You then go through the vineyards above Martigny until you reach La Bâtiaz (574m) and its mediaeval tower.
After riding between orchards of apple and apricot trees, you return to Vernayaz (453m).

Variant routes
The following loops are optional extensions to the main route:
Les Marécottes - La Creusaz: From the railway station at Les Marécottes, you can ride up to La Creusaz (1777m) at the top of the ski lift, going through the village and then following a forest track. Return: 16km/737m ascent/737m descent
Salvan - Van d'en Haut - Les Marécottes: From Salvan, head towards the villages of Le Bioley and Les Granges, then go along the Vallon de Van as far as the Van d'en Haut campsite (1391m) before coming back down to the village of Les Marécottes. Total: 12km/470m ascent/370m descent
La Fontaine - Ravoire - Plan Cerisier: Before reaching La Fontaine, take the turning off towards Ravoire and go as far as Chez Pillet (1337m). Then descend to Plan Cerisier via Planojean and Sommet-des-Vignes. Return: 15 km/630m ascent/900m descent
Comments
Route can be followed in either direction.
Tour can be done in several stages, using the Mont Blanc Express cog railway (www.mont-blanc-express.com)
All the suggested itineraries are on mixed-use routes i.e. forest tracks and surfaced roads. The forest tracks are also used by walkers and the surfaced roads are used by motor vehicles. It is therefore important to be vigilant and to show consideration for other users.
Part of the route is on the French side of the frontier, so don't forget your passport or identity card.
Technical information
Positive elevation

1'966 m

Negative elevation

1'966 m
Contact
---
Location / Access
GPS coordinates :
46.134709403196446, 7.035902413990698
---