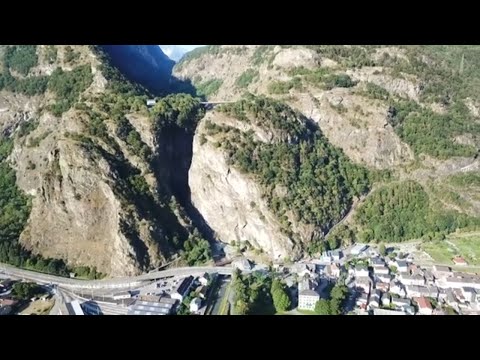 Randonnée pédestre
Trient Gorges
Vernayaz
A powerful example of the phenomenon of erosion, it forms a several-hundred-metre deep incision at the bottom of which the glacial torrent flows. The spectacular fault is crossed by two of the highest bridges in Europe, which tower 200m over the gorges.


Practical information
Admission fee (ticket office at the Design Floral shop)
Dogs accepted
The walk presents no difficulty whatsoever. Visitors must return to the entrance to the gorge; there are no footpaths that continue into the Trient valley
The entrance to the Trient Gorge is at Vernayaz, very near the railway station where the Mont-Blanc Express stops.
To learn more during your visit, listen to the free audio guides available online. (Only in French)
Prices
Kids (6-16 years) : CHF 6.-
Adults : CHF 8.-
Students : CHF 7.-
Families : 2 kild, 2 adults CHF 25.-
Schools from 10 people : kids CHF 4.- / adults CHF 5.-
Schools from 20 people kids CHF 3.- / adults CHF 4.-
Contact
Trient Gorges

Design Floral
Opening
Du 11 Nov 2022 au 31 May 2023
Closed


The Trient Gorges keep the right to close in the case of bad weather conditions.

1904 Vernayaz
Grand Rue 1
Social media
---
Location / Access
GPS coordinates :
46.13098516347683, 7.042711323047116
Not wheelchair-accessible
Toilets not wheelchair-accessible
Parking place not wheelchair-accessible