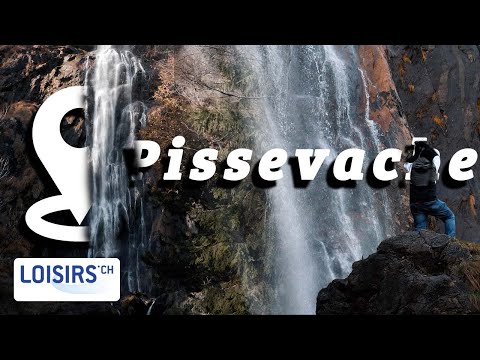 Leisure activities
Cascade de la Pissevache
Vernayaz
A source of life for the region
Long before the tourism boom, the Salanfe waterfall was of invaluable service to the region's inhabitants, who were able to benefit from its hydraulic force. In the late 18th century, a watermill powering a trip hammer and saw were brought into operation.
One hundred years later, a hydroelectric station was built at the top of the waterfall and a water intake line was installed further up the gorge to power the turbines.
The Pissevache, a 116-metre-high natural wonder
The local expression "il pleut comme vache qui pisse" (literally "rain like a pissing cow") is said to have inspired a passer- by to rename the Salanfe waterfall as the Pissevache. From the 1860s, tourists began to visit the Trient Valley, and viewing platforms were installed half-way up the waterfall. The magnificent cascade of water also encouraged artists to immortalise it, thus contributing to its international renown.
The waterfall becomes a political battlefield
In 1945, a project to build a dam on the Salanfe plateau at an altitude of 1,900 metres (which would reduce the flow of the waterfall) sparked outrage among part of the local population and associations for the protection of natural heritage. Opponents of the project saw it as a violation of one of the country's most beautiful sites.
The issue was brought before the cantonal and federal authorities, and after several months of discussion and interpellations, authorisation to flood the plateau was given. The dam was constructed from 1947 to 1950 and this considerably reduced the flow of the waterfall. Today, the size of the Pissevache varies depending on precipitation.
Contact

1929 Trient
Le Gilliod 27
Social media
---
Location / Access
GPS coordinates :
46.144094586856035, 7.028095722198487