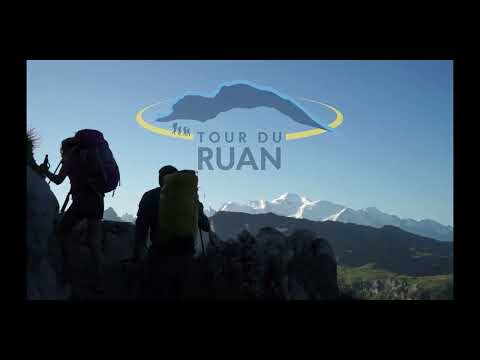 Randonnée pédestre
Tour du Ruan
Finhaut
Straddling Switzerland and France, the Tour du Ruan connects numerous wilderness sites with breathtaking panoramas on a 61 kilometre route.

This walking tour is best done in 4 days, including 3 nights in mountain huts.

You will discover the following regions: Emosson, Emaney valley, Salanfe, Susanfe, La Vogealle, Sixt-Fer à Cheval, Grenier de Commune and Grenairon.

The geology, fauna and flora that you will find on the tour are extremely rich.

The tour can be done in both directions. The map below shows the tour as follows: Emosson, Salanfe, Vogealle, Grenairon, Emosson. Variations are possible along the route.
In the opposite direction, the stages continue as follows: Emosson, Grenairon, Vogealle, Salanfe, Emosson.

This walking tour requires a good physical condition and is intended for experienced hikers. Depending on the snow melt, the tour is usually accessible from mid-July to the end of september.

Bivouac
It is possible to bivouac near the refuges and to eat there if the capacity allows it. Please contact the wardens beforehand.
In Switzerland: wild bivouac is authorized from sunset to sunrise, outside the mountain pastures, above the edge of the forests.
In France: wild bivouac is authorized from 7 p.m. to 9 a.m., except at the bottom of the valley leading to the Bout du Monde.

(Re)experience the Tour du Ruan with Benoît Richer from the blog "Des yeux plus grands que le monde" (Eyes bigger than the world)
Technical information
Positive elevation

5'491 m

Negative elevation

5'491 m
Contact
Vallée du Trient Tourisme SA
Social media
---
Location / Access
GPS coordinates :
46.067970199509986, 6.935515621444211
Environment :
Mountain
Positive elevation

1462 m

Negative elevation

1495 m
Positive elevation

1168 m

Negative elevation

1205 m
Positive elevation

1345 m

Negative elevation

1317 m
Positive elevation

3267 m

Negative elevation

3457 m
Positive elevation

1483 m

Negative elevation

1433 m
Positive elevation

1238 m

Negative elevation

1250 m