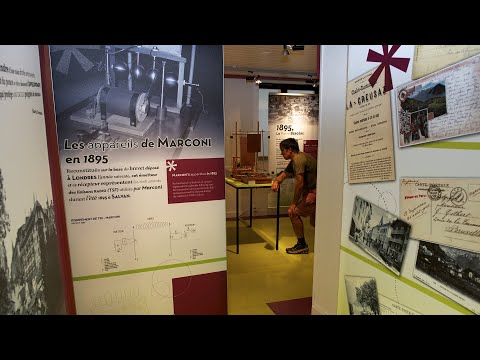 Leisure activities
Fondation Marconi
Salvan
Guglielmo Marconi made the first wireless transmissions in 1895 from Salvan, with assistance from local resident Maurice Gay-Balmaz.

A century later, the Marconi Foundation was created to perpetuate the memory of the Italian physicist. A public space in the centre of the village tells the story of his experiments, and gives visitors some fascinating insights into the world of telecommunications.

HISTORY
The exhibition pays tribute to the inventor Guglielmo Marconi, the illustrious guest who saved more than 700 passengers on the Titanic, and to Alexis Bochatay, the chef from Salvan, who was on board and died in the sinking.

In the summer of 1895, Marconi went to the "climatic" resort of Salvan sur Martigny, whose reputation had spread far beyond the borders of Switzerland. Assisted by Maurice Gay-Balmaz, a young SaIvanin of about ten years old, he worked there for nearly a month and managed to transmit a message more than 1.5 km from the point of transmission. This was one of the first wireless telegraphy links.

The Marconi Foundation is now paying tribute to this Nobel Prize winner and is addressing the tragedy of the Titanic, which highlighted the humanitarian role of wireless technology. Marconi's invention enabled the Titanic to send out SOS (Save our Souls) and CQD (Come Quickly Distress) distress messages. More than 700 survivors were saved.
Alexis Bochatay, a cook on the liner, born on 27 November 1881 in Granges sur Salvan (Valais), disappeared at sea off the coast of Newfoundland when the Titanic sank on the night of 14 to 15 April 1912. Nothing predestined this farmer's son and carpenter to follow such a path.
Exhibition
Radios and photos from 1895 to 1950
Videos
Audio recordings
Model of the liner Titanic
Exceptional Marconi TSF equipment from the Titanic

The Marconi Foundation organises four guided tour programmes, which include a tour of the radio museum only, and a museum tour combined, according to preference, with the educational trail and/or the Moulin Fine flour mill. In addition to these programmes, the Foundation can provide a seminar room or organise a meal at a restaurant in Salvan. Tailored programmes for groups are also available on request.

An educational trail also pays tribute to him.
Contact
Opening
Du 15 Jul 2022 au 15 Aug 2022


Every day


De 14:00 à 18:00


Open by reservation from 16 August 2021 to 14 July 2022
http://www.fondation-marconi.ch/

1922 Salvan
Rue Marconi 1
---
Location / Access
GPS coordinates :
46.12098288044175, 7.020912766456605
---
Retour
Form
Please send your request with this form.