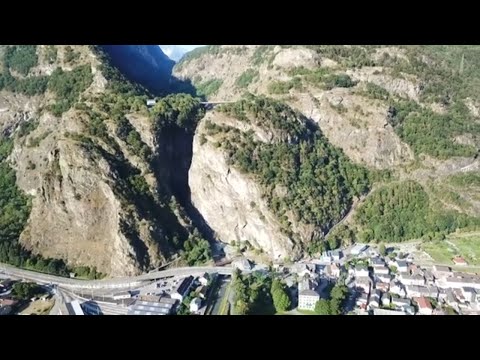 Randonnée pédestre
Trient Gorges
Vernayaz
A powerful example of the phenomenon of erosion, it forms a several-hundred-metre deep incision at the bottom of which the glacial torrent flows. The spectacular fault is crossed by two of the highest bridges in Europe, which tower 200m over the gorges.
Practical information
Admission fee (ticket office at the Design Floral shop)
Dogs accepted
The walk presents no difficulty whatsoever. Visitors must return to the entrance to the gorge; there are no footpaths that continue into the Trient valley
The entrance to the Trient Gorge is at Vernayaz, very near the railway station where the Mont-Blanc Express stops.
HERE YOU CAN ALSO RENT E-BIKES
Tarifs
Kids : CHF 6.-
Adults : CHF 8.-
Students : CHF 7.-
Families : 2 kild, 2 adults CHF 25.-
Schools from 10 people : kids CHF 4.- / adults CHF 5.-
Schools from 20 people kids CHF 3.- / adults CHF 4.-
Contact
Trient Gorges

Design Floral
Schedule
Du 16 Oct 2021 au 31 Oct 2021


Tuesday


De 14:00 à 18:00


Du 16 Oct 2021 au 31 Oct 2021


Wednesday, Thursday, Friday


De 09:30 à 12:00 et de 14:00 à 17:30


Du 16 Oct 2021 au 31 Oct 2021


Saturday, Sunday


De 10:30 à 15:30


Du 20 Oct 2021 au 22 Oct 2021
Closed


In case of heavy rain and as soon as the frost arrives, the Gorges will be closed.

1904 Vernayaz
Grand Rue 1
Social media
---
Location / Access
GPS coordinates :
46.13098516347683, 7.042711323047116
---