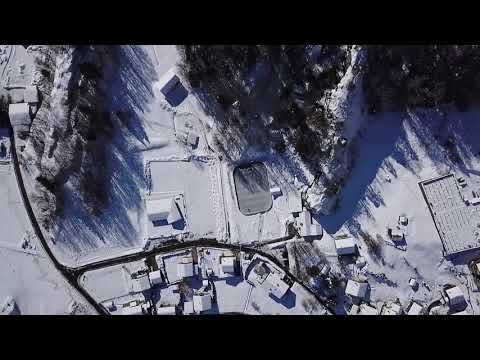 Sportive
Salvan ice rink
Salvan
Ice skating in Salvan? a pleasure that will not leave you cold!
For beginners and for the more experienced, fans of hockey, ice skating or just fun with the family, Salvan's outdoor artificial ice rink offers you a great alternative to skiing.
You can try out another winter sport, gloves, helmet and stick in hand for the more adventurous! and for those who do not have all the equipment, it is possible to rent ice skates on site.
Between two circuits or at the end of a nice skating session, why not take a well-earned break at the
refreshment bar
which also offers you snacks.
As an outdoor activity, the covid certificate is not required for access to the ice rink. However, the covid certificate is required for consumption inside the refreshment area.
Tarifs
Payment only in cash

Daily admission
Child (-4 years) Free
Children (-12 years) CHF 3.00
Adult (+12 years) CHF 4.00

Equipment rental
Skates for children (-4 years) Free
Skates (+4 years) CHF 5.00

Season tickets (from 27 November 2021)
Adult CHF 60.00
Schoolchild CHF 50.00
Family CHF 80.00

Ice rental :
Outside opening hours, by reservation: CHF 50/hour
Possibility to rent skates separately
-> Booking to +41 78 815 27 23
Contact
Salvan ice rink

Laurent Revaz
Schedule
22 Jan 2022
De 14:00 à 16:00 et de 19:00 à 21:00


Du 09 Jan 2022 au 25 Feb 2022


Wednesday


De 14:00 à 17:00


Du 09 Jan 2022 au 25 Feb 2022


Friday


De 17:00 à 21:00


Du 09 Jan 2022 au 25 Feb 2022


Saturday


De 14:00 à 21:00


Du 10 Jan 2022 au 25 Feb 2022


Sunday


De 14:00 à 17:00


Du 26 Feb 2022 au 05 Mar 2022


Every day


De 14:00 à 21:00


06 Mar 2022
De 14:00 à 17:00


Depending on weather conditions

1922 Salvan
Tinderet
Social media
---
Location / Access
GPS coordinates :
46.11574070125544, 7.017876095922816
---